Greetings all! It's Thursday, which is extra exciting because there are some changes coming to Simple Lives Thursday! First I'm going to tell you a few delicious things to do with garlic scapes and then I'll update you on SLT.
A friend asked me yesterday what he should do with all the garlic scapes he has collected by working at the University of Iowa student garden. This post is for you, Glenn :)
First, what
are
scapes?
When we plant garlic, we put a clove from a head in the ground in late fall. The bulb sits all winter and sprouts in the early spring. It grows all summer into a full head and is harvested again in the fall. The scape part of the plant is a shoot that the garlic clove puts up and that will eventually flower. Here's a young one growing on one of my garlic plants, which you can see in the background. That little white part in the center will eventually turn into a flower.
So,
why
do we pick garlic scapes? If we allow the scape to continue to grow, the garlic plant must put a lot of its energy into producing and maintaining the flower. (If you've ever had a plant drop all it's flowers, or 'abort' you know that ti's because the plant is under stress and needs to conserve resources.) We pick back the scapes so that the garlic plant is able to put all its energy into making a nice big bulb of garlic underground. If you're growing basil or other herbs, you should similarly pinch back the blossoms to encourage them to produce more of the leaves that you want. Will letting the scapes go to flower hurt your plant? No.
Now that we have them, what do we do with scapes?
Here are a couple simple ways to prepare or preserve your garlic scapes from around the internet, with photo and recipe credits.
Preserve
:
Use them as an
herb salee,
or salted herb. This is a French preservation technique of layering herbs and salt to draw out the moisture and preserve them. Here's
a link for the process
and a photo from Punk Domestics, a website that you should be checking out
Pickle them, as instructed here by
Not without Salt.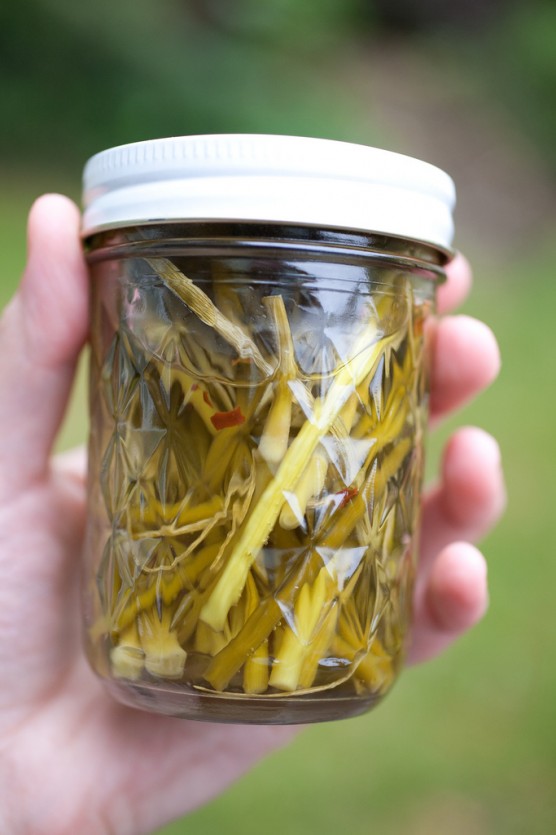 Prepare
:
Make garlic scape pesto. The scapes add a nice flavor and bite to pesto. Pesto freezes really well, so it's a great option to make now and use later. Here's a
recipe and post
from Mike Kyosto's gorgeous blog.
Try this white bean dip using garlic scapes from
Brown Eyed Baker
.
Finally, my favorite ways to have them:
sauteed in butter and mixed into scrambled eggs
rubbed with olive oil, salt, and pepper, and thrown on the grill.
sliced up and as a topping on pizza
Now it's time for Simple Lives Thursday!
First we have some exciting news about the future of the hop. I'm going to let Diana do the talking, and then you'll find the featured posts and this week's links under the jump.
Twitter Chat!
There's a lot of great stuff in the works for our first twitter chat to commemorate one year of Simple Lives Thursday. We hoped to have a day and time to announce today but we're still figuring it out. Soon!
Our hashtag for the event will be #simplelives.
For those participating in the chat, we already have some great giveaways lined up and collaborators to make this event fun for everyone involved! In the meantime make sure to follow the hosts of Simple Lives on Twitter to stay in the loop!
Alicia – @culinarybliss
Annette – @SustainableEat
Diana- @dianabauman
Mare – @marebeard
Wardeh – @WardehHarmon
After our Twitter Chat, the hosts of SLT will be dedicated to one giveaway a month to our featured posts bloggers! So link up and continue to inspire us for another year to come!
Featured Posts from Last Week's Submissions
Please visit and enjoy these featured submissions from last week's SLT! If you're a featured post blogger, please display this badge on your site! Link it to one of the host blogs' posts that featured your post.
1. Homemade Fly Spray
by Prairie Homestead. Every homestead needs to try this out for natural fly control with livestock!
2. Making Ghee In A Crockpot
by Yolks, Kefir and Gristle. Ghee makes the perfect infusion to any summer vegetable and what a better way to make it during this hot season than in a crockpot.
3. Aquaponics
by Lizard's Hollow. Aquaponics is something that can be done on a small scale in a backyard or a garage in repurposed 55 gallon drums. With wild seafood becoming unsustainable and farmed frankenfish in our future, we could be looking to backyard solutions to satisfy our fish cravings instead.
4. Barefoot is Better
by Laurel Of Leaves.. Some people might pass off the current 'barefooting' craze as just another trendy thing to do, but there are actually good reasons why this blogger got rid of her expensive running shoes in favor of "shoes" called Vibram FiveFingers.
5. Unexpectedly Unplugged
by Butter Believer. This blogger's embracing of traditional food practices coincided with ditching reliance on the power company, too!